Camera Critters - Squirrels & Frosted Flakes
While visiting my squirrel diva buddies at the San Francisco Botanical Gardens, I always try and bring them a healthy treat. This particular day I decided to surprise them with one of my favorite cereals, Frosted Flakes, sans milk. It is very amusing watching the behavior of these little critters. I placed a pile of the flakes on the ground and they would pick out one flake and prance away over to a bench, up a tree or just a few feet away from the pile. They'd munch on that flake until it was gone then - return and repeat. It is so cute to watch them even though we are not supposed to feed them anything. When they beg, my heart melts and I have to comply.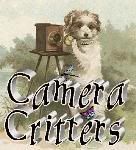 Be sure to visit the other participants by clicking the above widget.