Camera Critters #266
Photo courtesy of Gary and Trish
Hi everyone. My name is McKinley, my friends and admirers, and there are many, call me Mac.
I am writing for Camera Critters today because Poetic Shutterbug was too lazy. She is working hard at her job and needs some beauty rest. Lord knows, alot of beauty rest.
I have been a busy guy these days. I went to my first concert at Cafe Divine in North Beach this past weekend to see my friends
Sony and Jerry Holland perform
. My favorite song that they sing is
On A San Francisco High
. I like it because I live here in San Francisco and it's a very cool song about my hometown. I think I am becoming a party animal and it's fun :)
I also like watching the San Francisco Giants play baseball. I would love to run around that field and chase everyone. Sergio Romo is my favorite player because he's a cool dude like me and always has his picture taken, like me. Poetic Shutterbug says she likes the Giants too but she only likes the victory parades and the food at the park so I'm a better fan. My friend
Sony
is going to sing the National Anthem at Dodger stadium in June so I might have to become a Dodger fan too.
My favorite hobbies are chewing, jumping and fetching. I really haven't changed much since the last time I wrote about me,
which you can read by clicking here
, other than I am a little bigger and even more handsome. Those who shall remain nameless have said I am in my terrible twos. I don't know what that means but I guess it's okay because everyone loves me and that's all that matters.
Make sure to click the widget below to go visit all the other cool critter celebrities like me.
xoxo
Mac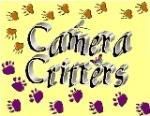 Click the above widget for more Camera Critters fun.