Camera Critters #265 and Wild Bird Wednesday Meet Wilbur The Barn Owl
Meet My New Son Wilbur the Barn Owl
My friend, Paula and I went to the zoo yesterday on residents free day so that I could introduce her to Wilbur. Unfortunately he was not there but was in the SF Zoo Mobile entertaining school children around San Francisco.
I went back today, Thursday in order to buy a membership to the zoo so that I could visit him whenever I want. Every time I have seen him, he is always sleeping in his barn but today I was thrilled to see him outside playing, taking a bath and hanging out for his fans - and he has many.
I found out a few new facts about him. He is a picky eater and will only eat black mice. He is also bothered by the beeping sounds that the zoo trucks make when they are backing up. He is a homebody and loves his little blue barn, as do I.
It was such a treat for me to see him so animated today. He also will respond to his name if you call him while he is asleep. Isn't he just the cutest? :)
Getting ready to take a bath :)
Primping his feathers after his bath.
Resting in his little barn.
Some facts about Wilbur
His adoption certificate.
The History Of Wilbur's Adoption
Now I have been going to the zoo for over five decades. Yes, I'm giving away my age with that statement but I love our zoo and still go there on a regular basis. The San Francisco Zoo has gone through many changes and many a media story over the past few years but for me, it brings me peace and joy each time I visit. I love all animals and the zoo brings me closer to their world.
A little about Wilbur.
This is Wilbur the barn owl. He was born in 2006 and contracted West Nile Virus and as a result has neurological damage. Due to this damage he cannot be released into the wild. The zoo keeps him in the Koret Animal Resource Center where they take special care to make sure he has everything he needs. He has his own little blue barn in which he sleeps and rests. Since the zoo is only open during the day, I have only seen him while he is asleep.
Barn owls in general have excellent hearing and as a result do not need their eyes to hunt at night. These owls usually feed on rodents and are active after dusk especially while in wooded areas. They can be anywhere from 8 to almost 20 inches in length and have a wingspan up to over 40 inches. They are nocturnal.
My new son, Wilbur the barn owl.
As i previously mentioned, the SF zoo offers adoptions for an entire species. When I first saw Wilbur in 2010 and read his story, he had my heart. I just fell in love with this little guy. I visit and talk to him each time I go to the zoo.
I decided that I wanted to adopt him. I did not necessarily want to adopt the entire species of owls but only Wilbur so that I could contribute to his care. I contacted the zoo adoption dept. last week and asked if I could adopt him. Long story short, the zoo provided a special adoption package for me so that I can now call Wilbur my adoptive son :)
I just received the news a little while ago and completed the transaction and paperwork. I am ecstatic to say the least. I want to thank the San Francisco Zoo for allowing me to become Wilbur's Mom
.
Visit
Wild Bird Wednesday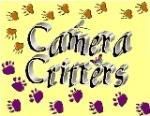 Click the above widget for more Camera Critters fun.