Camera Critters Komodo Dragon At The San Francisco Zoo
The Komodo Dragon debuted today for members of the San Francisco zoo and of course I was there to take some photos. His name is Big Daddy Bahasa. This little guy is adorable, for a lizard, and was posing for all the shutterbugs that were out there today. What a fantastic treat for all of us. It was very crowded and he was in a windowed exhibit with different color lights which made it a little difficult to get great shots but I think I got a few good ones. The exhibit will open to the public this Labor Day weekend and is a must if you live in the area. I also took some shots of the signage which gives much more information on this little guy. He is located across from the Koala exhibit.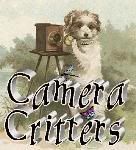 Click the above widget for more Camera Critters fun.